Technology That Drives You
Cox Automotive is transforming the way the world buys, sells, owns and utilizes cars with industry-leading digital marketing, software, financial, wholesale and e-commerce solutions for consumers, dealers, manufacturers and the overall automotive ecosystem worldwide. In Canada, the Cox Automotive family includes Dealer.com®, Dealertrack®, Kelley Blue Book®, HomeNet®, Manheim®, NextGear Capital®, Ready Logistics®, RMS Automotive®, vAuto®, VinSolutions®, Modix®, and Xtime®.
Dealertrack, a Cox Automotive brand, is an integrated solution that helps the automotive retail industry grow by making workflows more efficient, transparent and profitable.
Through Dealertrack Digital Retailing, in-market vehicle shoppers can request a loan, have a trade-in vehicle evaluated, add financing and insurance products, calculate their payments accurately and reserve a vehicle on a dealership website. Also, Dealertrack solutions allow different departments at a dealership to work as one team with full transparency and efficiency to deliver a personalized customer experience at scale.
PACKAGES AND PRICING
Enroll Now
Webinar
Presentation
---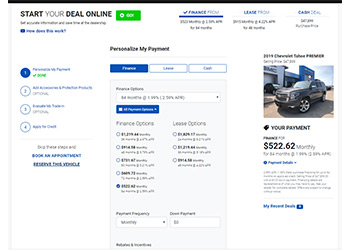 PaymentDriver
Allow your customers to start deals online and boost your sales. Using industry leading technology and dynamic OEM and Lender data, PaymentDriver calculates your shoppers' payments in real-time, accurate to within a dime for new, CPO and used vehicles. This tool upgrades your online retail experience by supporting all payment preferences such as finance, lease, and cash deals.
---
FinanceDriver
The FinanceDriver integrated Dealertrack credit application is optimized for the deal workflow as an easy and secure way to receive your customer's credit. The entire consumer deal structure is submitted securely with the credit application into the Dealertrack Portal where it can easily be cascaded to your lender of choice for approval.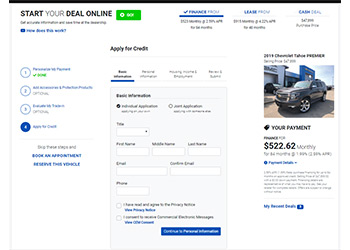 ---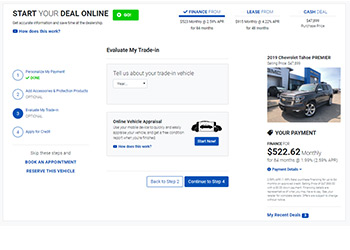 KBB TradeDriver with optional PAVE Upgrade
TradeDriver allows the consumer to obtain an instant and accurate KBB value for their trade-in. This workflow integrates the KBB evaluation into the consumer's payment/deal for a seamless consumer experience. In addition to being included in the Dealertrack Digital Retailing workflow, KBB TradeDriver is also available to be embedded anywhere on the website as a standalone lead capture tool. The consumer is guided to accurately capture the condition of their trade from their mobile phone using PAVE. PAVE performs dent detection, tread depth measure, has VIN decoding capabilities, and provides the images and a detailed condition report back to the dealer.
---
ProtectionDriver
ProtectionDriver allows your dealership to showcase information on the aftermarket products and accessories available to car shoppers. It enables the consumer to educate themselves about their options without the pressure. Customize the content and pricing that is presented to your customers. Payments are updated in real-time as products and accessories are selected and added to their deal.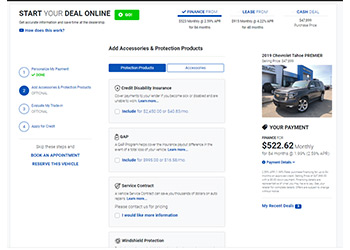 ---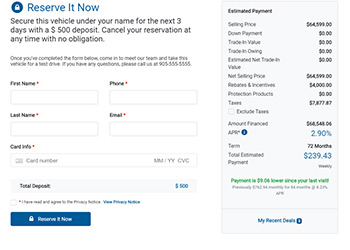 Reserve It Now
Give your consumers the ability to reserve a vehicle with a deposit via credit card. Reserve It Now is fully customizable allowing dealerships to define their deposit amount, length of reservation, and personalized messaging to consumers. All payment transactions are securely processed through Stripe (payment processing platform).
---
My Recent Deals
Provides consumers with the ability to send themselves or others deals they have created via a unique link by email or text message. This link can be used to modify deals at a later time from any device. Deals are remembered and consumers will be alerted when changes have been made to their deal (i.e. Price drop). This feature is included with all levels of the Dealertrack Digital Retailing suite.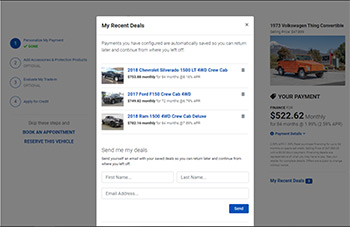 ---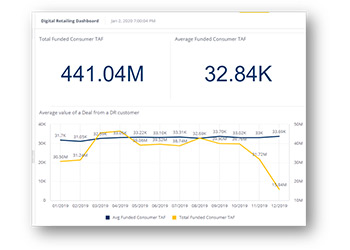 Reporting Dashboard and Performance Management
Measure engagement and true ROI by following the consumer's journey end-to-end. Standard & custom reporting can be provided for both individual dealerships, dealer groups, and GMCC upon request. Our performance management team will review reports and KPIs, make best practice recommendations, and provide ongoing training.