Choice Digital Partner For Canadian Dealership Operations
TRFFK, a division of AutoSync is an all-in-one digital advertising solution designed exclusively for the automotive sector. TRFFK is powered by autoTRADER.ca, the people who know cars better than just about anyone. But what we also know better than anyone in the industry is how people are buying their cars. With millions of people checking our marketplace every day, the back-end data we accumulate from the steps they take along their journey and our insight into consumer behaviour is unmatched. We take this proprietary data and use it to power your campaigns. It's our secret sauce and allows us to target with razor-sharp focus. Our team of category experts then get to work providing digital advertising strategy and execution across paid search, display, social media, and audience retargeting to help you convert in-market shoppers into real-time customers.
PACKAGES AND PRICING
Enroll Now
---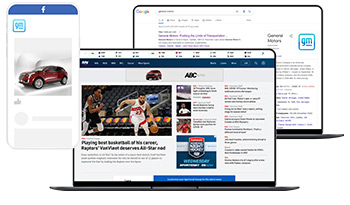 TRFFK powered by AutoTrader.ca - Convert In-Market Shoppers into Real-Time Buyers
TRFFK is an all-in-one digital advertising solution designed exclusively for the automotive sector in Canada. Your marketing campaigns are powered by exclusive shopping data and unmatched behaviour insights form Canada's #1 automotive marketplace, AutoTrader.ca. Our team of Canadian automotive and digital marketing experts will work with you to execute customized campaigns across search, display, social, video and audience remarketing.
---
Social Advertising – Connect with Buyers Where They Are Online
Leverage social channels to target in-market audiences and extend your reach using look-a-like audience segments to reach new shoppers that have a higher likelihood of converting. Social tactics include look-a-like audiences, customer lists, retargeting, leads, video, static and dynamic ads.
---
Paid Search Advertising - Find People Searching for Cars and Target them with Highly Relevant Ads
Our paid search offering is the most trusted solution in automotive. Fully integrated with your inventory and bolstered by vehicle-specific content for every ad, it's proven to differentiate your dealership and capture existing demand within your market. We leverage our data to optimize dealer strategies against key conversion metrics, looking at short and long-tail keyword strategies to maximize your advertising dollars.
---
Display Retargeting – Target Engaged Shoppers Online That Have Interacted with Your Inventory
TRFFK taps into Google's Marketing Platform of tools for campaigns, ensuring we are not subjected to the limitations of the Google Display Network (GDN). TRFFK has access to over 100 advertising exchanges, whereas GDN only utilizes publishers as part of the Adsense advertising network. Targeting extends to a large universe of apps, (through an app marketplace), across most devices. We'll ensure that we get your ads in front of the right shoppers at the right time, on the right publisher, while outperforming the competition.
---
Geo-fencing - Temporal Geo-Targeting of an Event Location
TRFFK's geo-fencing solution can generate dynamic and configurable localization shapes to meet the needs of your specific campaigns. Our strategists trace around an event location where you would want to build an audience based on their visit to that particular location during a specified day and timeframe. When the consumer enters the geo-fenced location during the set timeframe, they will then become a part of an audience that can later be targeted following the event.
---
Video Advertising - Customized Video Advertising Solutions
With TRFFK, entry into the video advertising medium is not only easy, it's encouraged! A video presence enhances and amplifies your digital marketing footprint. We offer a customized Video Advertising Solution for YouTube through Pre-roll Advertising, True View Ads and Bumper Ads.
---
DealerBreacher – Stay Up to Date and Advertise Vehicles in The Best Market for Faster Inventory Turn
DealerBreacher is the best tech company for SEM in the automotive industry. Our ad builder will save you time and support the customization of your unique campaigns and worry-free management based on your real time inventory. With unique technology, we are able to deliver better performance at a better cost while saving dealers time on a daily basis!