Redefining Retail, Together
You are experts at running your dealership's operations and sales processes. We are experts at delivering retail experiences that separate you from your competition.
MotoCommerce offers complete connectivity between your dealership team and your customers. Empower car-buyers with a cohesive online and in-store shopping experience by allowing them to do any or all of the purchase steps from home, picking up where they left off in the dealership. MotoCommerce features a comprehensive dealer portal that's easy to customize with discounts, fees, payment terms, F&I products and more.
PACKAGES AND PRICING
Enroll Now
Webinar
---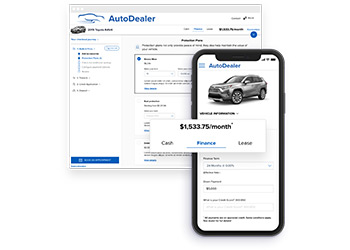 CUSTOMER EXPERIENCE
Vehicle Configurator and Pricing Calculator
Our dynamic pricing calculator provides customers with transparent pricing that adjusts as they make changes to their deal. Your best lease and finance promotions are automatically applied when customers configure their deal through MotoCommerce.
---
F&I Accessories and Warranties
Curate a customized menu of accessories, protection plans and warranties that fit your customers needs, complete with images, videos or PDFs to help guide their decision.
---
Trade-in Appraisal
Customers who want to do a trade-in can upload vehicle photos and information right from their mobile device, and receive an appraisal on the spot. All appraisals are subject to final approval from the dealership.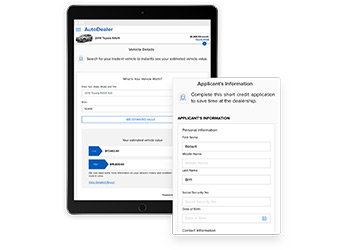 ---
Credit Application and Approval
Customers can submit a secure credit application through MotoCommerce. Once approved, the deal is automatically updated with the customer's approved credit and purchase eligibility.
---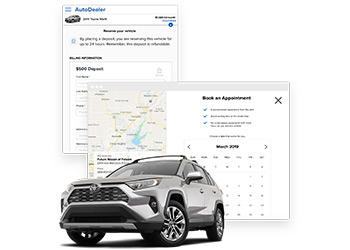 Deposit and Delivery Scheduling
When customers are ready to purchase, they can submit a deposit through MotoCommerce to secure their vehicle. They can also schedule an appointment with your dealership team so you can collect final signatures and walk the customer through their vehicle's features.
---
DEALERSHIP TOOLS
Real-time Notifications
Follow your customers through their purchase journey, every step of the way. You'll be notified each time a customer is active on their account, allowing you to provide timely support at all stages of the transaction.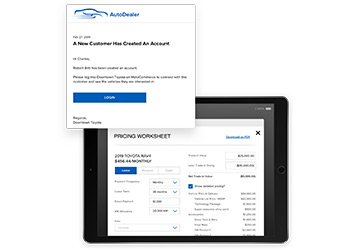 ---
Customizable Pricing Worksheet
Working deals is made easy with our customizable pricing worksheet. From the dealer dashboard, you can craft the perfect deal for your customers - adding custom discounts and fees when necessary. The price will update dynamically, right in front of their eyes.
---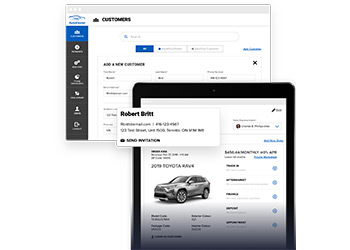 Give the Gift of Omni-channel Retail
Not every deal starts online. Connect your walk-in traffic with the MotoCommerce platform in one easy step, and give them the gift of omni-channel retail. Enable your customers to finish their deal at home with a dynamic pricing worksheet, the ability to accessorize and add protection plans, submit their trade-in and more.
---
Nurture & Optimize Your Internet Leads
Having trouble closing Internet leads? Invite your customers to a customized portal with the vehicle they're interested in. From there, they can get penny accurate payments with our dynamic pricing worksheet, and continue finishing their deal wherever they are… when they want… and how they want.
---
Connect With Your End-of-Lease Customers
Increase customer retention by giving your customers a seamless key-to-key experience. We enable dealers to generate a personalized digital shopping cart with recommended vehicles, allowing customers to line up all the details of their next deal before they set foot in your dealership.