GM Dealer Chat
We are a GM fully managed chat solution for your dealership website. Our team of advisors will provide friendly and knowledgeable customer service while collecting sales, parts, and service leads. Our platform is designed exclusively for GM automotive dealerships and includes benefits such as:
GM Exclusive Advisors – Trained thoroughly in house on GM products and programs such as Global Connect, GM Answers, online Order Guide, and GM Quick Check
One Flat Fee Program – GM Dealer Chat works with all website providers and there is NO EXTRA CHARGE for additional sites within the same BAC (i.e. Cadillac and/or French and English sites)
No Extra Charge for 3rd Party Integrations – Facebook Messenger, Google My Business, Google Analytics, and Autotrader
SMS/Text – Giving the customer options on how they wish to initiate communication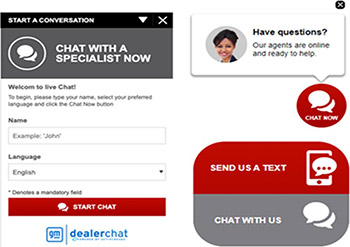 Our online console provides reporting and analytics capabilities to help you monitor performance and constitutes the following features:
Site Performance & Chat Research: Offering graphs and data on chats by day, week, time of day and language
Chat Details: Contains transcripts and lead form information
User Performance: Tracks individual agent results and conversion rates
Our advisors have a 55% chat to lead conversation which can increase website leads up to 40%. Our chat solution has a 90% customer satisfaction rate!
Take advantage of our competitive rates today with no annual contracts (month to month) – RISK FREE!
PACKAGES AND PRICING
Enroll Now